CSO CUSATUM Service GmbH
Graduate engineer (FH) – Computer engineering
Co-founder and CSO, CUSATUM Service GmbH
Current Professional Activities
Specialist in the area of access rights management
Support, development and consulting in the implementation of role and access rights
concepts
Cleanup of the role and authorization structure before the introduction of an IDM, IAM,
access rights management tools
Design, development and implementation of access rights management workshops
Introduction, extension and support of access rights management solutions
Development of an intelligent suite for cleaning up role and access rights problems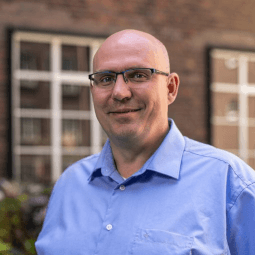 Dipl.-Ing. Mike Wiedemann
My passion is customer satisfaction. I also go the extra mile for satisfied customers!
Co-founder and CSO at CUSATUM Service GmbH
Consulting, implementation, coaching and training of role and access rights concepts onboarding and
offboarding workflows at companies like VW, Kuka, CapriSun
Analyze the ACTUAL situation of permissions on the File Server, SharePoint, Exchange, O365
and Azure
Cleanup of the access rights structures
Development of a concept so that the employees themselves can manage their rights
Support and advice on cleaning up the access rights structure to roll out a clean role or
access rights concept. The goal is to create an automated and standardized on- and offboarding
process to keep clean the access rights structures in the long term.
Head of Service and Support at Protected Networks GmbH (today SolarWinds)
Support for technical problems with the product 8MAN /ARM (Access Rights Manager)
Product training for 8MAN / ARM (Access Rights Manager)
Workshops for access rights management
Development at Protected Networks GmbH (today Soklarwinds)
One of the first employees and main developer of the software 8MAN / ARM (Access Rights
Manager)
Technical Key Account Professional at Tektonix
Support and consulting of Vodafone, Siemens and Ericsson in mobile phone problems using
the mobile phone protocol analysis of Tektronix
Support with technical problems of the mobile phone protocol analyser
Development of graphical user interfaces at Siemens and Tektronix
Development of a new user interface for the Mobile Protocol Analyser
Main contact person for technical problems
Software Tester at Teles AG
Main responsible for testing the ISDN telephone software